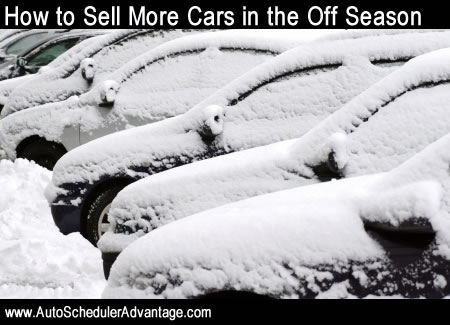 Winter is a hard time for car sales. People don't want to stand out in the lot looking at vehicles when they could be inside by the fire with a cup of hot cocoa. However, you can use comfort and customer service to your advantage in these difficult months. Winter could be the perfect time to sell a few SUVs and trucks and get more service appointments from your existing customers. Read on for more information on how to make a profit when the weather turns chilly.
Good Vehicles for Bad Weather
If there's one thing that Americans hate, it's getting stuck at home. This is the perfect time to capitalize on the threat of bad weather conditions. Put your SUVs, trucks, and four-wheel drive vehicles up front and center. Hold a seasonal sales event to get things moving.
When you advertise on television and on social media, link to articles about how to drive in inclement conditions. Post pictures of your trucks and SUVs driving through snow and ice to show what they can do. This is also the perfect time to point out some of the great features on newer vehicles, like heated seats and individual climate controls.
Comfortable Customer Service
Make sure that, whenever the weather is cold, you have hot cocoa and hot coffee made and ready to go for your customers as they knock the snow from their boots and step into the showroom. Know your inventory so that you can discuss which vehicle or vehicles they'll be test driving without making them step back outside. Warm up the car they'll be driving and bring it around to the front of the showroom, so they'll immediately feel warm and comfortable when they get in the car.
Schedule Maintenance with Existing Customers
When sales are slow, you can bring in revenue by holding sales and promotions for your service department. Offer 50% off of an oil change or tire rotation one week. Then switch it up the next week and offer a free car wash with any scheduled maintenance. People hate washing their cars when it's cold outside. They'll jump at the chance to have someone else do it.
Whenever they're not with a customer in the store, have your salespeople work through your list of existing customers and schedule maintenance appointments. Tell them about the upcoming service deals and let them know that you're thinking of them and want to know how their cars are doing throughout the year.
Follow these tips, and you'll keep selling cars and bringing in profits all year long.