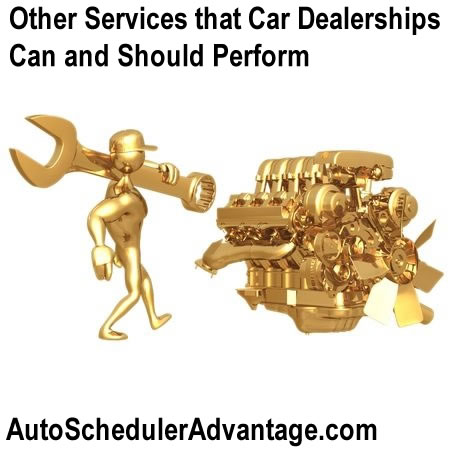 If you are just now joining us, we have been talking about services other than just selling cars that car dealerships should perform or offer. This will be the last installment but as expected, the best was saved for last.
Aftermarket Accessories
Aftermarket accessories is an absolutely HUGE market. Depending on the vehicle, you can get nearly every piece and part on it as an aftermarket accessory or upgrade. Generally, these parts will not be offered by the manufacturer of the vehicle although some of the OEM parts are made by aftermarket parts manufacturers. For example: when talking about Jeeps, Smittybilt is an aftermarket parts manufacturer however many of their parts come as OEM on a brand new Jeep.
Consumers need to be careful though because some dealerships choose to offer these parts as part of illegal payment packing options. For those reading this who are on the up and up and do not understand that phrase, it is where the monthly payment for the vehicle is jacked up so as to encourage buyers to purchase aftermarket parts and accessories at ridiculously low and inaccurate prices.
If a dealership offers aftermarket parts and accessories, it will entice the customer to keep returning whenever he wants the latest and greatest for his ride. However, it is imperative that when a dealership does offer these parts, they do it in an honest manner.
Maintenance Agreements
Dealerships often have their own service shops and offer maintenance agreements that are pre-paid. At times, this type of agreement is actually made through the manufacturer of the vehicle but it can be by the dealer alone. There are great differences in this type of agreement but generally they will cover routine maintenance things such as oil changes, tire rotations and the like.
Just as with the other things mentioned in this series, keeping the customer returning to the dealership builds trust. Each time the customer calls or comes in, you have one more opportunity to build a relationship with them that will turn into both repeat business and sales from referrals. There is no better type of advertising in the world than a satisfied customer.
Lease Here – Pay Here
Lease to purchase programs generally give the consumer a vehicle that they will lease for a period of time ranging from 12 – 36 months. At the end of that time period, they have the option to purchase the vehicle or turn it in and lease another one.
There are pros and cons to this practice for both the consumer and the dealership. While it can promote continual business with customers, it can also cause the dealership to be scrutinized because generally this option will appeal to people who do not have the financial ability to actually pay out the term of the lease.
If you are looking for ways to maintain your current clientele and expand it exponentially then you really should take a look at each part in this series to determine which aspects are feasible for your dealership.